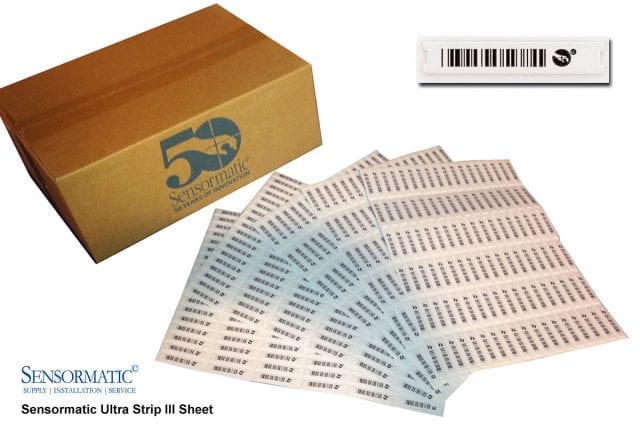 This permanent source tagged Ultra•Strip III Individual Label is intended for manual application directly to the product or product packaging. This label is not designed to be "dropped" into product or product packaging. This is the perfect security label for Perfumes, Cosmetics, High-end Beauty Accessories as well as DVD's, and CD's.
Retailer Values
Permanent source tag label is manually applied to product/product packaging
Utilizes proven Sensormatic AM technology and manufacturing process to provide the highest in detection performance
Reactivatable for unlimited reuse.
Works well on liquids, foils and in metal shopping carts
Robust construction provides optimal merchandise protection
Label Dimensions
Label length ………..45.21mm ± 0.5mm (1.78" ± 0.020")
Label width ………..10.67mm ± 0.5mm (0.420" ±0.020")
Sheet Specifications
Labels per sheet …………………….108
Boxed ………………………………….. 5,000 labels per box.