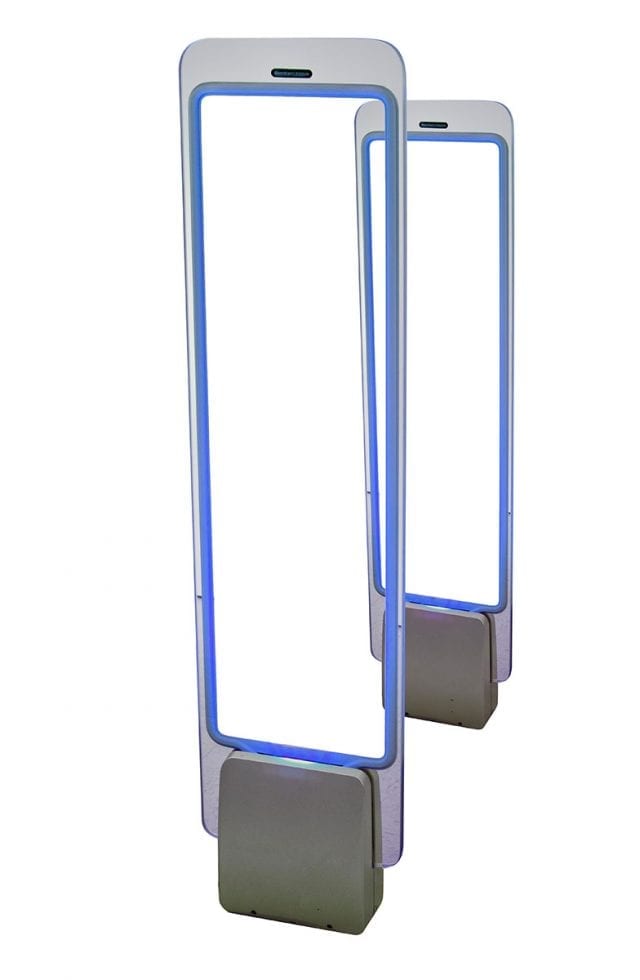 The Sensormatic Ultra Exit AMS-1130 detection system provides retailers 2.4m of detection coverage between pedestals. The high quality plastic construction and open frame design preserves store aesthetics and maximizes customer flow. This pedestal blends into store openings perfectly while still providing a strong visual deterrent. At the heart of the AMS-1130 performance is the Ultra Max® 9050 Controller which represents the most advanced Ultra Max® platform ever produced. Leading edge DSP and new antenna topology helps ensure continuous superior performance, even under hostile electronic noise conditions. SmartEAS Options include people counting sensors integrated to the alarm lens and alarm counting.
Key Advantages
High performance Ultra Max® theft detection. AMS-1130 offers one of the highest levels of Ultra Max® detection and is compatible with all Sensormatic® hard tags and labels. Please be advised that the performance will be less with low energy labels (LE) at 2.4m spacing, however; performance improves when using LE labels at less than 2.4m.

Advanced electronic and software design. The Ultra Max® 9050 Controller platform provides advanced Digital Signal Processing (DSP), connectivity to allow remote service, software controlled system configuration and drives up to four transceiver pedestals.

SmartEAS® options include people counting sensors that can be integrated into the pedestal alarm lens.

Base Choices include high impact plastic and stainless steel for varied customer applications. Bases are required, and are ordered separately.

Audible and visual alarms provide notification of alarm events.