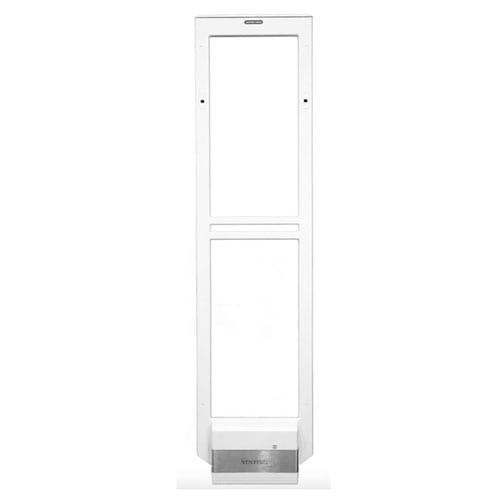 The Sensormatic Synergy 2.0 Pedestal combines the power of AM and RFID technology to enable comprehensive store performance. Its thin, narrow, open-frame design is constructed of high-impact ABS, preserving aesthetics and delivering the right look for virtually any retail setting. This detection system features Sensormatic AM EAS technology for the highest level of theft detection with up to 2m (6ft 6in) coverage for wide or multiple exits. The integrated audio and visual alarms notify store personnel if protected merchandise passes through the detection zone. The multiple audio and visual alarms can be customized for different event types, mapping the audio and ambient lighting options to reflect the source of the alert, such as foil-lined bags and jammer devices.
The pedestal features embedded, multiple-beam people-counting sensors designed for optimal accuracy. With the Synergy network card, these sensors enable Traffic Intelligence reports that provide visibility into shopper traffic to enhance store performance and increase conversion rates. Integrating directional traffic information with EAS alarm events allows the sensors to discern between inbound and outbound traffic, virtually eliminating unintended alarms triggered by shoppers carrying protected merchandise near the pedestals. People counting sensors also enable a "poweron-demand" feature that puts the system into low-power standby mode during periods of low or no traffic activity to reduce power consumption up to 90%.
Retailer Values
Compatible RFID Retrofit Panel provides an easy, cost-effective migration path to advanced RFID functionality to provide inventory and shrink visibility.
Consistent 2m (6ft 6in) global detection performance protects critical assets.
Embedded people-counting sensors provide Traffic Intelligence and directionality to calculate conversion rates and maximize store performance.
Optional Metal-Foil Detection alerts staff when foil-lined bags or clothing enter the store environment, helping combat shrinkage.
"Tags-too-close" feature helps reduce unnecessary and costly service calls and maximizes valuable selling floor space near the pedestals.
Jammer Detection helps reduce shrink by notifying staff of attempts to disable the EAS system using a separate audible alarm.
Add-on surveillance cameras provide video verification of EAS alarm events for enhanced shrink visibility.
Customizable alarm tones and LED alarm light identify unique events to help reduce shrinkage.
Remote alarm option alerts staff of alarm events anywhere in store.
Service connection port allows full system software control at any antenna, reducing in-store service time.